merdeka
sebut tentang merdeka, what will you think of? tunku abdul rahman? british? fireworks? konsert klcc? perbarisan depan bangunan sultan abdul samad? some people define merdeka as meaningless, nothing special. there are a few people said merdeka is just a tradition kinda of celebration eg.perbarisan, but there are also some people think that merdeka celebration is a must as a remembrance and reminder kepada orang-orang yang memperjuangkan kemerdekaan. on the other side, there are some people who thinks that merdeka celebration is just wasting of time, money etc. they said that buat apa nak ingat merdeka kalau sebenarnya diri kita ni tak merdeka pon? kita masih dijajah secara tidak disedari, kita masih dijajah oleh kaum barat dan penjajahan yang berlaku adalah penjajahan pemikiran. well, different people think differently.
Selamat hari merdeka!
suddenly i just thought of merdeka just now and first thing came into my mind was memories back in tkc. let's rewind ourselves all way back to 1997-2001. we normally had inter-house competitions during merdeka night besides tayangan wayang and performances. and me, memang sangat bersemangat rumah. seriously. house spirit la orang kata. hehe. tapi, semangat batch lagi lebey kot. i was in
Selindang Delima
or mengikut warna is
hijau.
hijau mata memandang. heh. tetiba terasa nak test diri sendiri ingat lagi tak lagu rumah. kalau ingat lagi, memang serious kobar rumah giler laa.
selamatlah.. selindang delima, rumah hijau yang ku cintai...
sememangnya gagah perkasa.....
(alamak, lupa sey..) tetap teguh untuk berdiri (tak sure line ni)
selindang delima... maha perkasa... namamu indah murni...
selamatlah selindang delima rumah hijau yang kucintai..
kami akan tetap berbakti kepadamu selindang delima..
kantoi maa, lupa gak la satu line tu. alamak, sure kene sound ngan my ex- roommate a.k.a house captain kat tkc dulu. nwayz, actually.. i miss my friends. i miss my batch. i miss my green house. i miss tkc.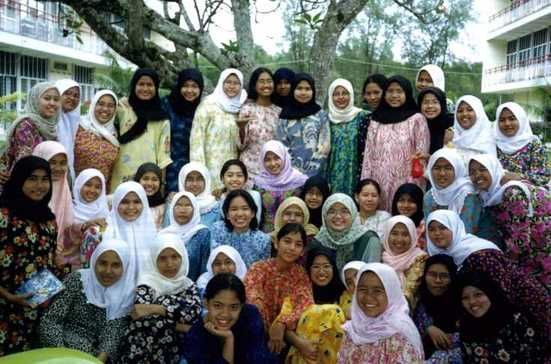 1999, zaman comot.. tapi best sbb jadi senior of the junior. carik aku mane.. hehe.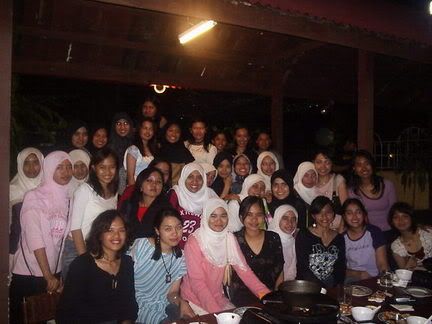 2004, zaman comel.. ala, takleh carik aku sbb aku takde masa reunion aritu.. isk isk..
//did u notice what the MAIN difference between those two pickies? i am so upset suddenly.. but, i still miss u girls.. may Allah guide us to His path.. amin.