R I N D U
It's now winter holiday! Teringat plak saat-saat manis winter trip last year. I've had lots of memorable moments and kenangan manis yang takkan dapat dilupakan.



Winter Trip, Melbourne '04
~Rabbit, Salwa & Denise in memory~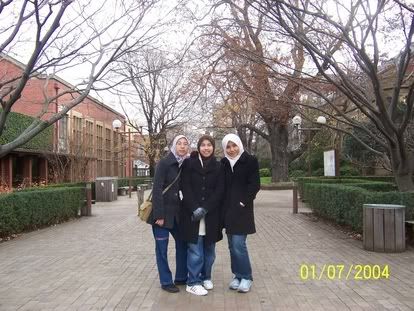 Di hati bersama mengembara
Tiba masanya tika saatnya kuterasa
Meredah lautan kasih sinar iman yg subur
Redup menyinar hati sanubariku
Kutabahkan hatiku dibunag berkelana
Gerimis hati terpaku sukma
Semoga hidayahNya kan terus menyinar
Penuhi alam kegelapan
Berikan kekuatan dalam mencari sinar
Di jalan ini kuhadapi duka dan sedu sepi
Bersama teman-teman harungi perjuangan
Biarpun kekurangan ada takkan ku gundah
Kita akan bersama menempuh segalanya
Bersatu hati mendamaikan jiwa yg keluh resah
Janji patri bersama ikatan teguh setia
Berjaya menuju gerbang impian kita harapkan
Di hati kita bersama
Di hati kita melangkah
Jgn dipisahkan kasih bersaudara
Jgn didendamkan ukhwah yg terbina..